"Wrought Iron" Railing repair and rebuild
Pipe & Industrial Railing Repairs
Residential add on and matching to existing rails
Complete rebuild or railings
Repair of existing railings
Parkway Manufacturing Company, Inc.
707 Industry Drive
Hampton, VA - 23661
Phone - (757) 896-9712

In addition to providing new railings of all types Parkway Mfg. can repair or refurbish existing railings. When it is not feasible to remove the existing railings we can perform the needed repairs on-site. We are very familiar with the industrial pipe rails located behind many strip mall and warehouses. Damage from delivery vehicles is common to all of these installations. We are also familiar with the code requirements in your area and are able to make the changes needed to bring existing rails up to code.
Please contact us for a no cost estimate.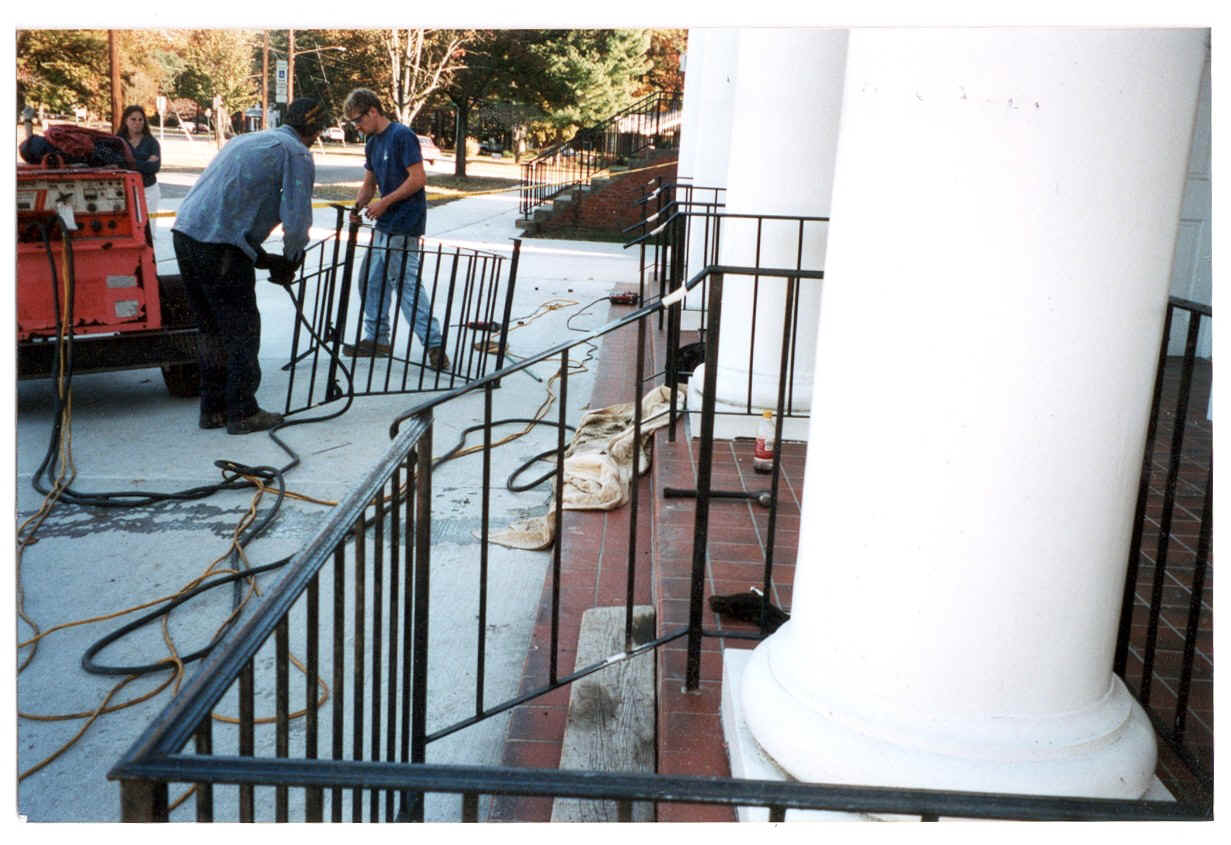 The above and below photos are of a rebuild and repair job completed by Parkway Mfg on the front step railing for Cradock Baptist Church in Portsmouth, Virginia. The upper sections of railing under the porch roof were in acceptable condition. The exposed parts needed a rebuild. In addition we made some location adjustments required by the church.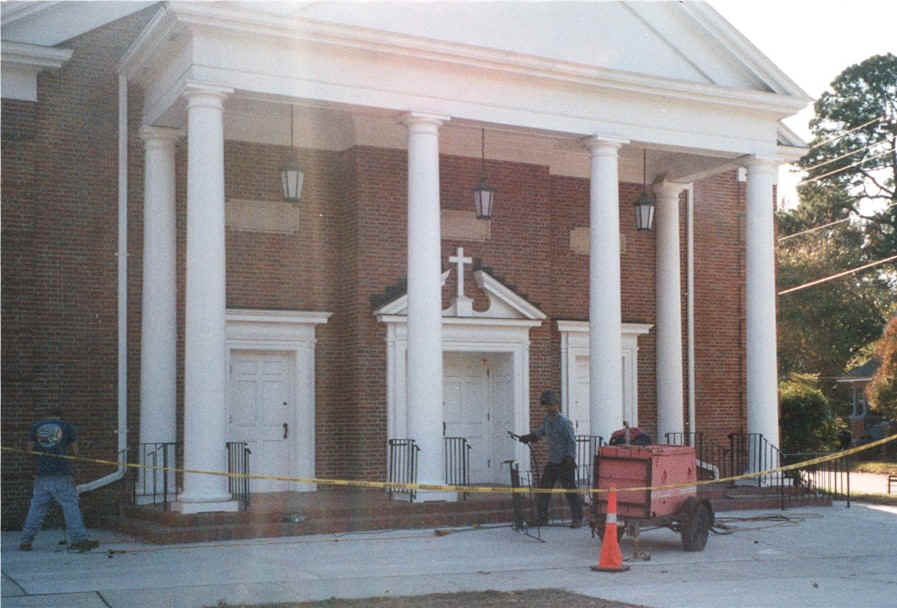 The photo below is of a step rail made to match existing porch rails. Though of different materials our step rails were designed to compliment the porch rails. The result gives the front of the home a nice clean look.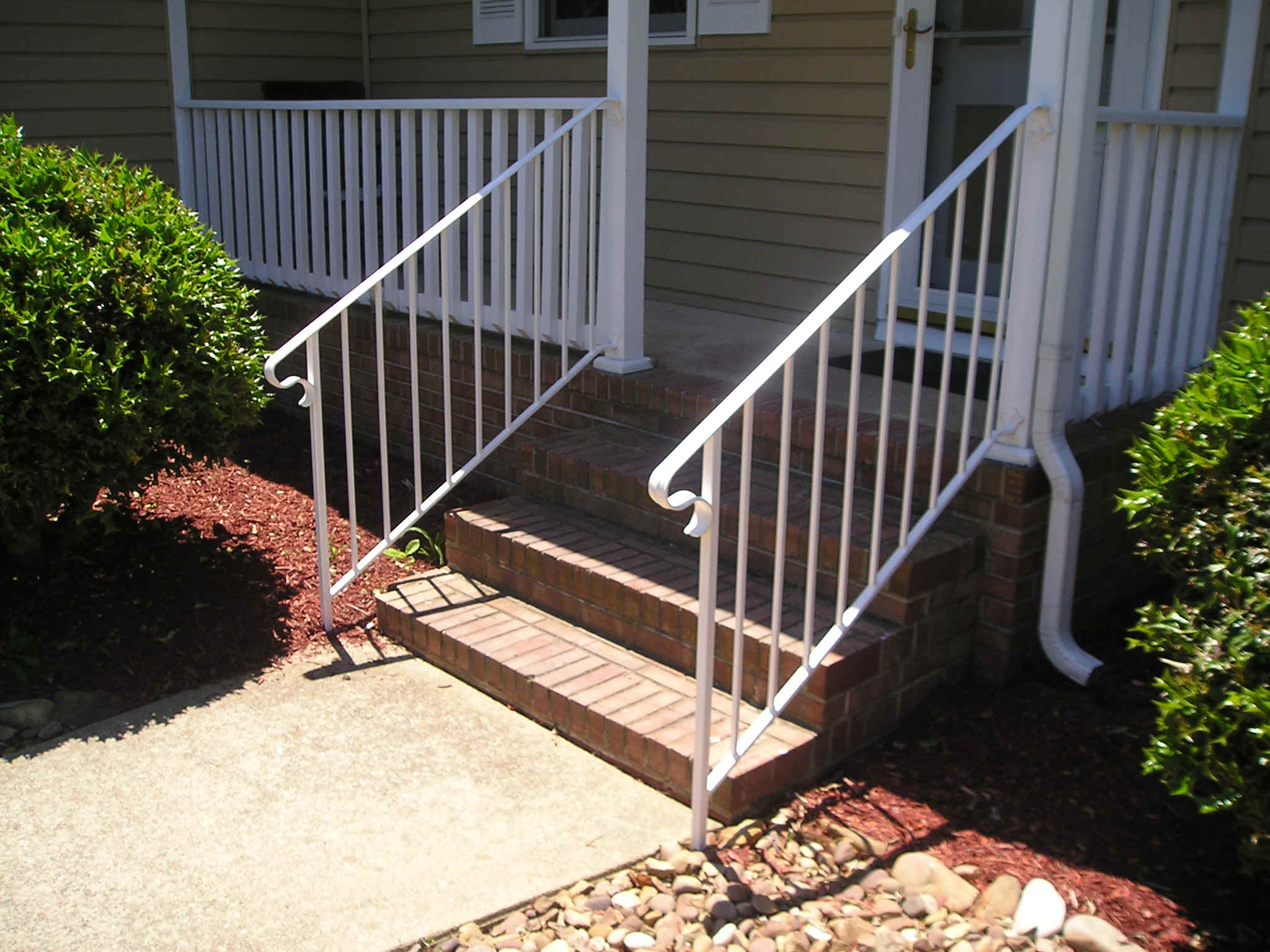 Visitors
(Since Jan 2004)
Parkway Manufacturing, Inc.
707 Industry Drive
Hampton, Virginia - 23661
Owner: Walter Schultz
Manager: Barbara Mastej

Phone - (757) 896-9712
Examples of some of our services include:

Heavy Steel Manufacturing and Sub-contract Manufacturing.

Motor Lanterns, Machinery Foundations, "C" Face Motor Adapters.

Brackets, Braces, Supports, Adapters

Functional & Decorative Architectural & Ornamental "Wrought Iron" Design and Installation.

Porch, Deck & Stair Railings.

Precision and General Machining.

Contract Torch and Plasma Arc Cutting.

Field welding and repair services.

Machine Rebuilding

Dock leveler installation.

Miscellaneous structural manufacturing.

HVAC Equipment Supports, Mezzanine, Cat Walks, Access Stairs

Manufacturing and installation of protective Bollards and curb guards.

Manufacturing and installation of Truck Racks, Ladder Racks & Custom Truck Beds

Manufacturing and sales of Bicycle Racks, Plant Stands, Fireplace Log Racks, "Wrought Iron" Picnic Table Frames
Examples of some of our Processes include:

CAD/CAM Computer-controlled Gantry Flame and Plasma Cutting

Lathe work (Turning, Facing Boring and threading)

Milling Work (Face, side and end milling)

Drill press work, Precision and Radial

Welding, MIG, Tig and Shielded Metal Arc (SMAW or "Stick") Welding

Sheet metal shearing and bending. Both Box & Pan and Press Brake work

Plate rolling

AR Steel Fabricating (Abrasion Resistant Steel)

Saw Cutting

CNC Torch & Plasma cutting

Custom Design

Electrical, Hydraulic and Mechanical Assembly

On Site welding and repair
We have many other special needs services which we can provide. Just ask, by calling or sending an email.
Parkway Manufacturing, Precision Fabrication and Machine shop is located in Hampton Virginia (VA) and serves all of Southeast Virginia and Northeast North Carolina, including: All of Tidewater VA, Virginia Beach Va. Norfolk Va. Chesapeake Va. Newport News Va. Portsmouth Va. Hampton Va. Yorktown Va. Suffolk Va. Williamsburg Va. Richmond, Va. Elizabeth City NC, and Jacksonville NC. (North Carolina)
As well as all of North America, (USA & Canada)
If you would like to contact our Web Designer

( http://www.parkwaymfg.com http://www.twosteptidewater.com http://www.willharper.com http://www.hyperlearn.com http://www.unityren.com http://www.niman-meyers.com http://www.gtechnetworks.com )
This page was last changed on - 09/23/2017