Hilton Garden Inn - Suffolk Virginia
One of the many businesses that use our steel fabricated Architectural railings for both protective strength to meet city codes and provide the ornamental appearance of "Wrought Iron".
Parkway Manufacturing Company, Inc.
707 Industry Drive
Hampton, VA - 23661
Phone - (757) 896-9712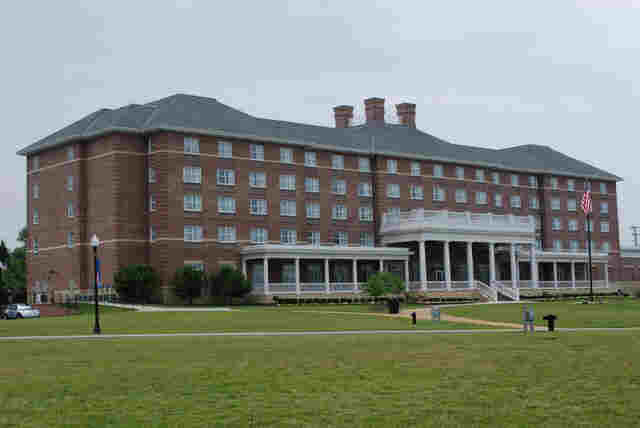 In the above overall view of the water side of the Hotel you can just make out the white picket railings between the four brick chimneys. The original design called for vinyl railing to be on the roof. When the contractor could not find anyone willing to custom make the vinyl there turned to us.
In our custom design the horizontal pieces are made from 6"x 4" 6061T6 Aluminum Hollow Sections and the pickets from 2"x 2" hollow sections. Each railing section was completely TIG welded, cleaned and powder coated white. The contractor wanted a decorative rail that was maintenance free and that is what we provided. They still look outstanding. This photo was taken in early 2008 almost 4 years after we installed them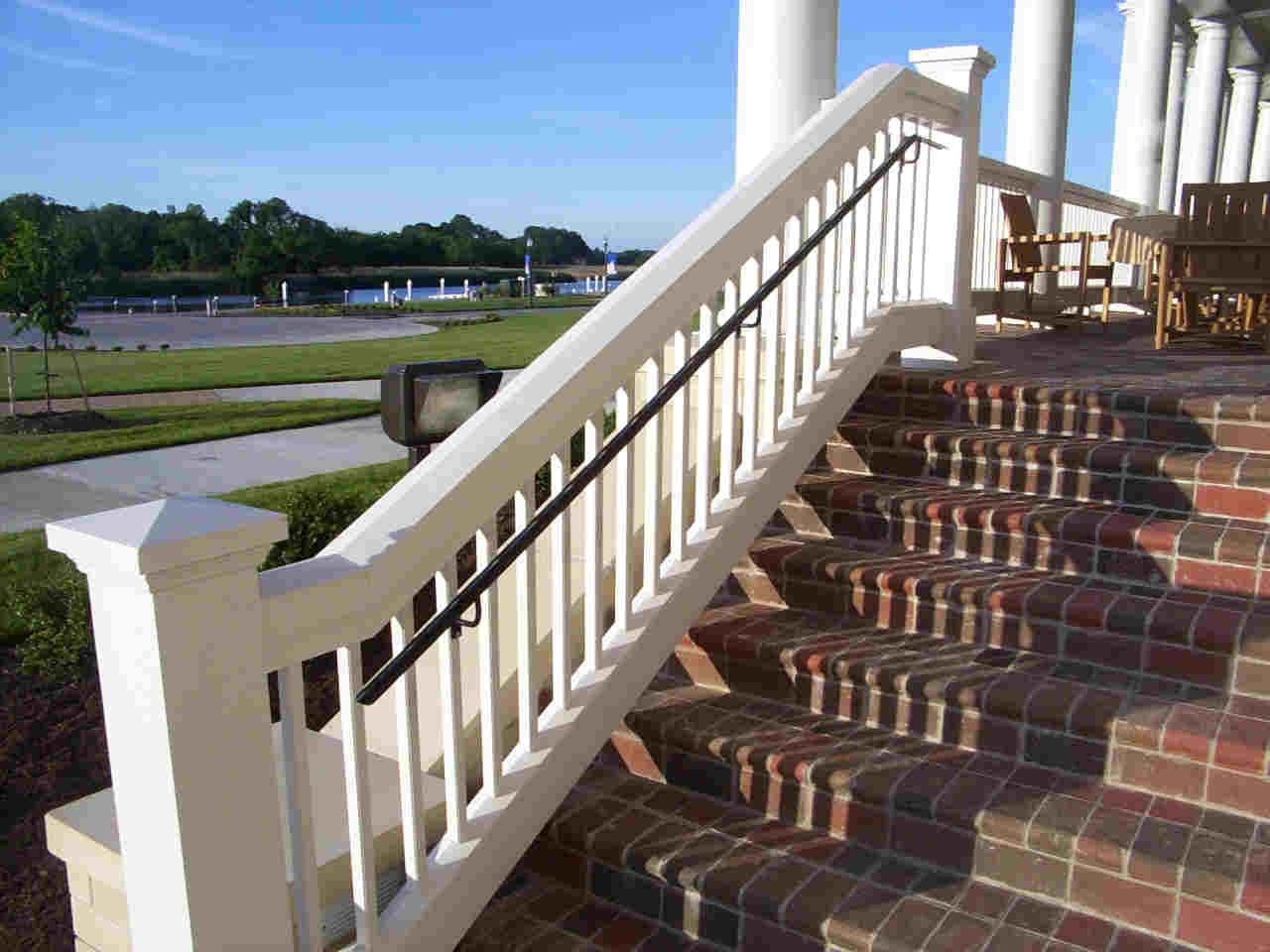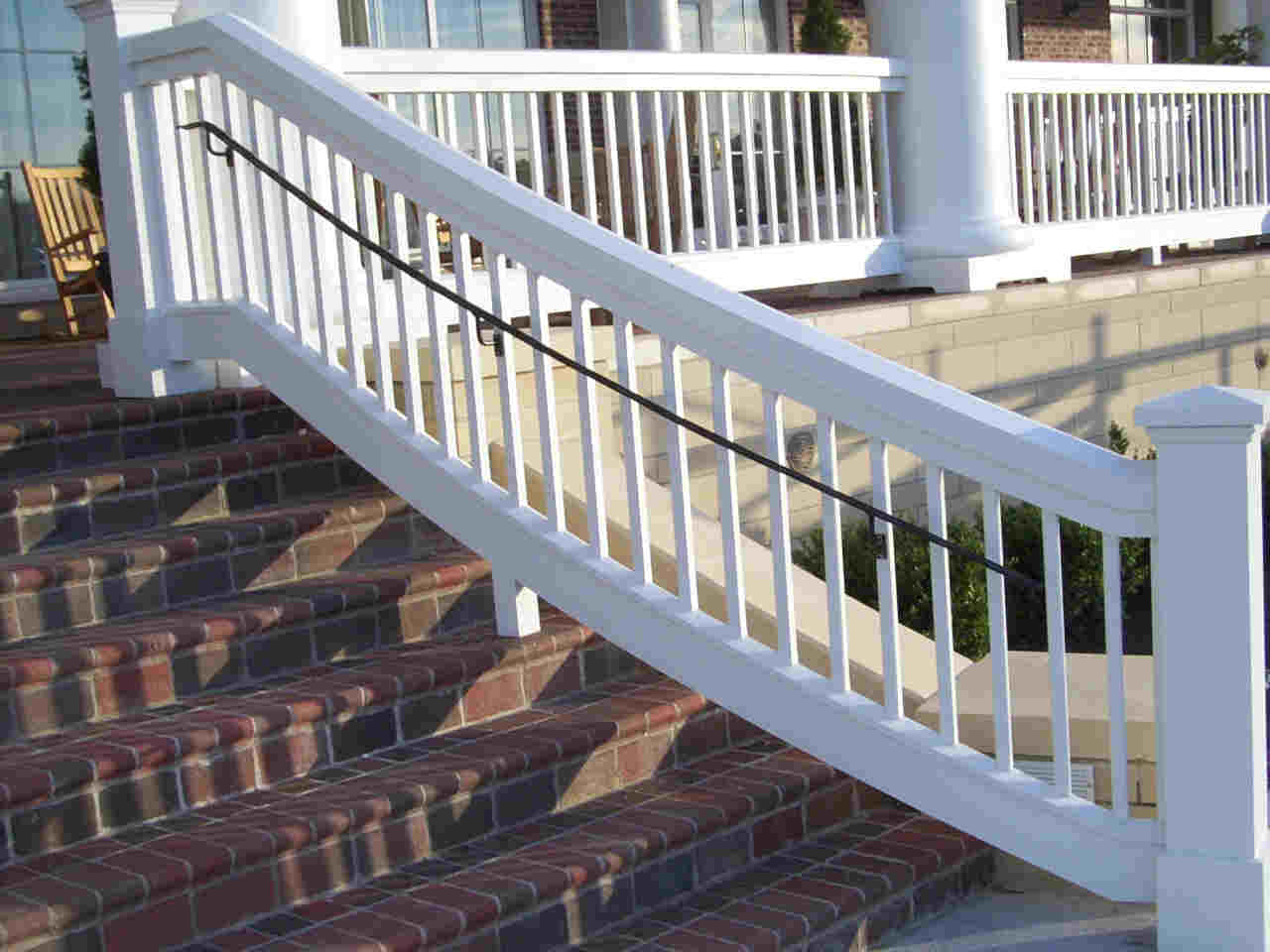 The above two photos show the added simple back "wrought iron" cap rail we added to the white synthetic manufactured rails. The building plans has these in the original design specifications. The rails in the top photo are straight and in the bottom curved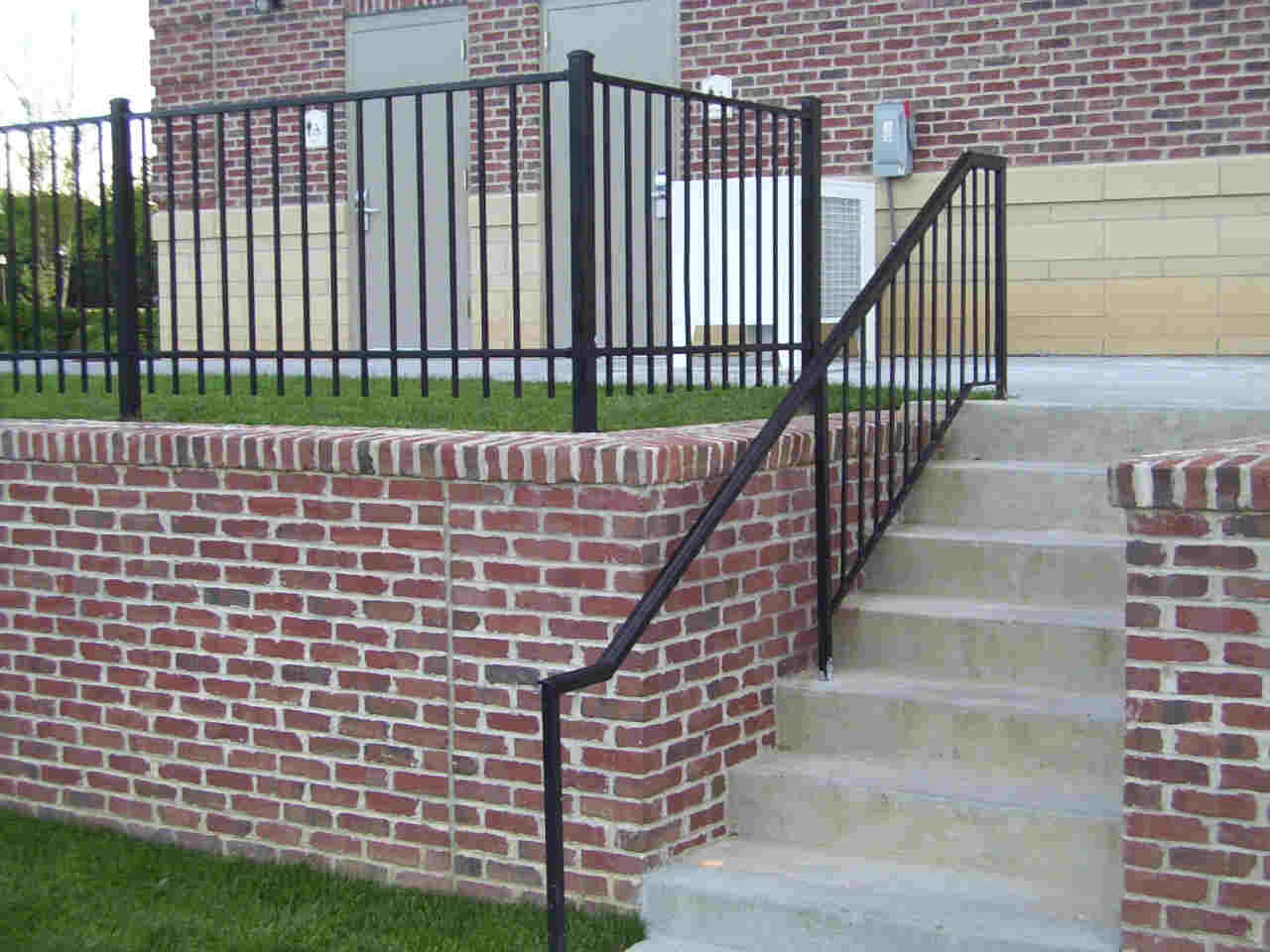 This was our way of dealing with a fence railing and steps rail that was required by the Suffolk City ordinance. Not in the original design we needed to make this functional while at the same time eliminate a possible trash collection spot. It's not the most elegant design but entirely functional.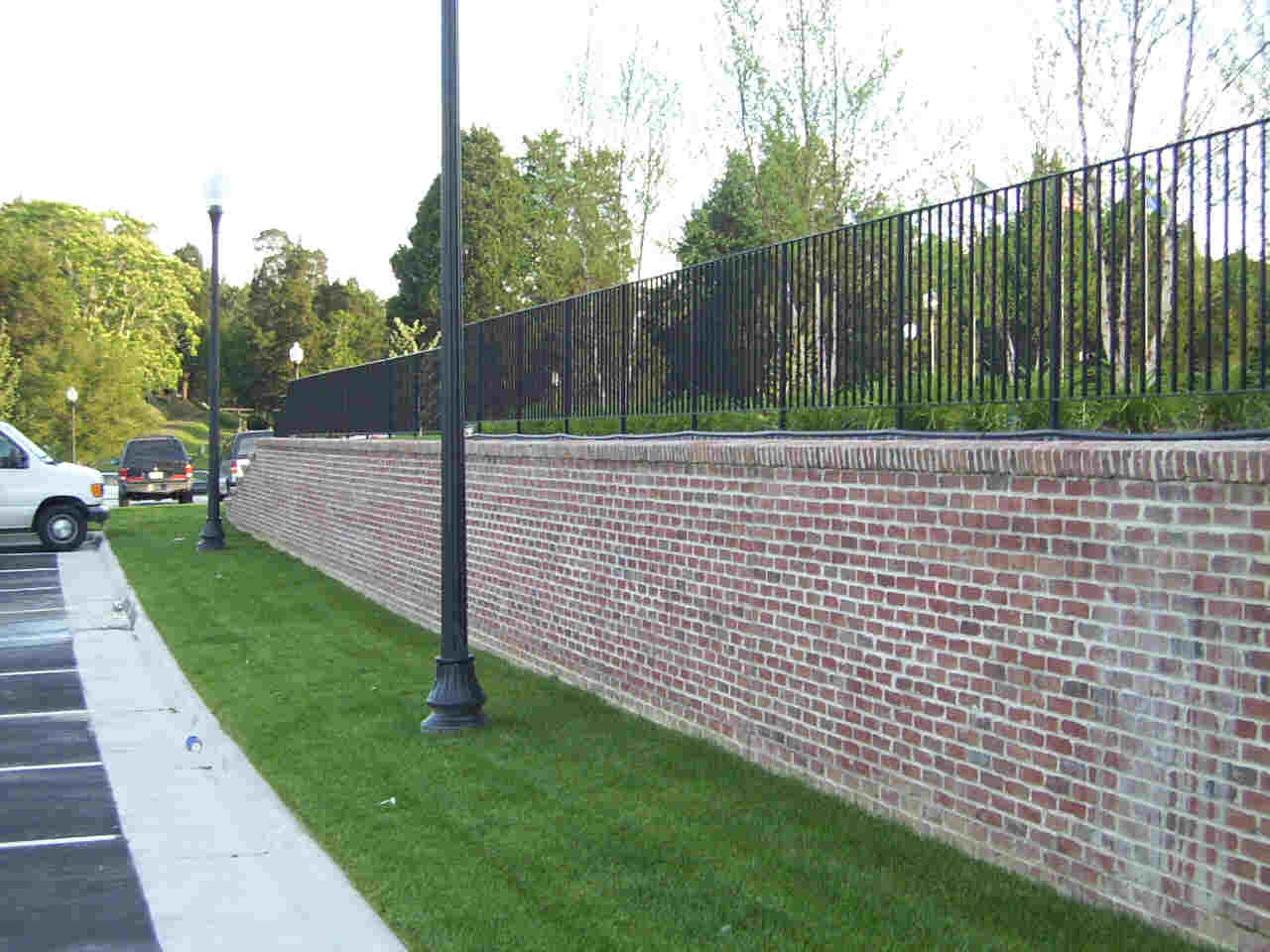 The photos above and below show the long fence rails we made to protect a retaining wall. The challenge with this fencing rail was to keep the sections completely straight while at the same time follow the contour of the wall. Although there was no walkway next to the wall the City Code required a fence. We think the results look nice.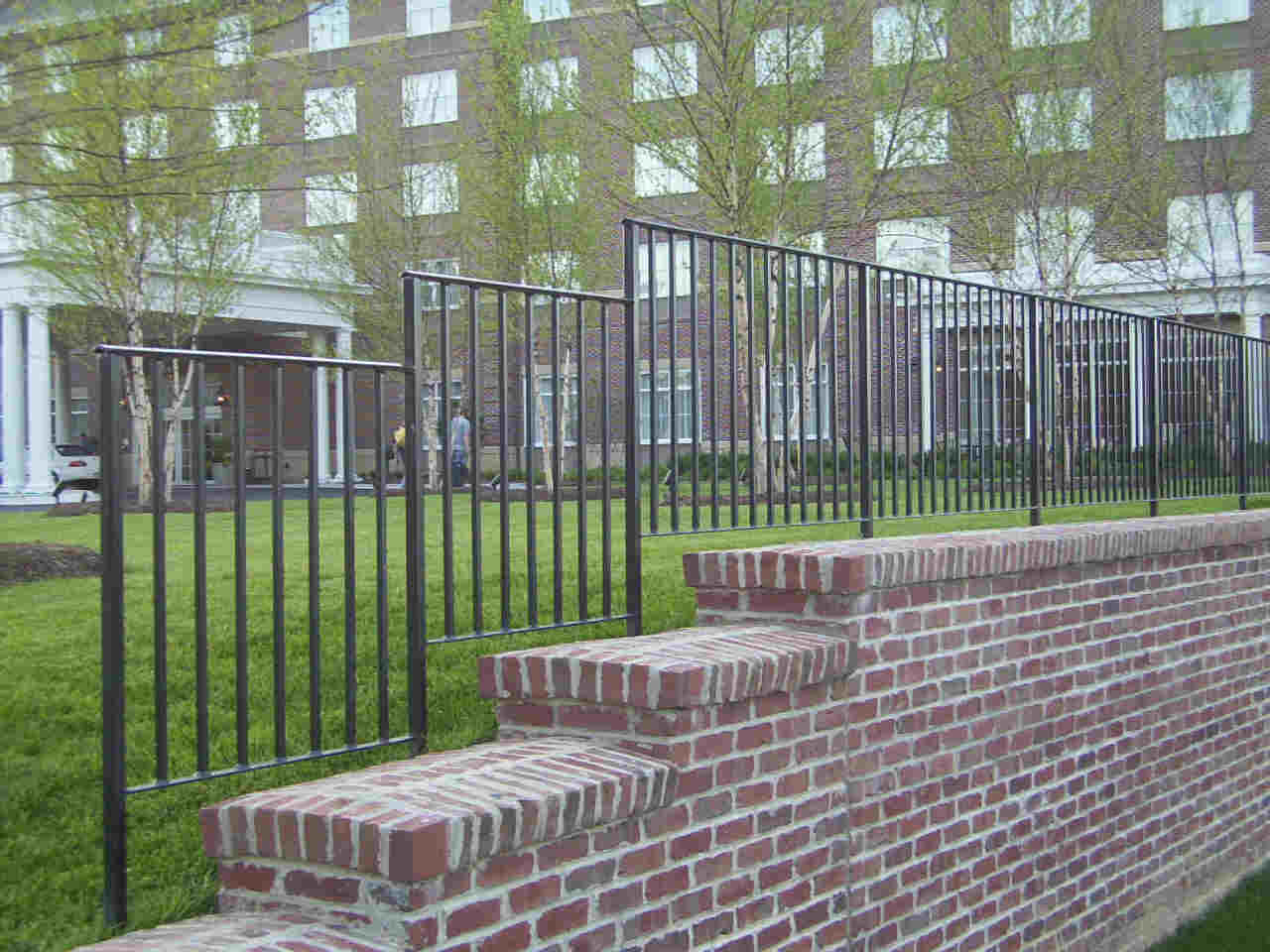 These are just a few of the photos taken after we built the fence and railings for the Hilton Garden Inn in Suffolk, Virginia. Although this was a very demanding job due to both the complex designs and the difficult City Building Codes Parkway Mfg. Pulled this job off without a single problem.
The company who built the Hilton liked our work so much we were given several other project during the construction of the hotel
Visitors
(Since Jan 2004)
Parkway Manufacturing, Inc.
707 Industry Drive
Hampton, Virginia - 23661
Owner: Walter Schultz
Manager: Barbara Mastej

Phone - (757) 896-9712
Examples of some of our services include:

Heavy Steel Manufacturing and Sub-contract Manufacturing.

Motor Lanterns, Machinery Foundations, "C" Face Motor Adapters.

Brackets, Braces, Supports, Adapters

Functional & Decorative Architectural & Ornamental "Wrought Iron" Design and Installation.

Porch, Deck & Stair Railings.

Precision and General Machining.

Contract Torch and Plasma Arc Cutting.

Field welding and repair services.

Machine Rebuilding

Dock leveler installation.

Miscellaneous structural manufacturing.

HVAC Equipment Supports, Mezzanine, Cat Walks, Access Stairs

Manufacturing and installation of protective Bollards and curb guards.

Manufacturing and installation of Truck Racks, Ladder Racks & Custom Truck Beds

Manufacturing and sales of Bicycle Racks, Plant Stands, Fireplace Log Racks, "Wrought Iron" Picnic Table Frames
Examples of some of our Processes include:

CAD/CAM Computer-controlled Gantry Flame and Plasma Cutting

Lathe work (Turning, Facing Boring and threading)

Milling Work (Face, side and end milling)

Drill press work, Precision and Radial

Welding, MIG, Tig and Shielded Metal Arc (SMAW or "Stick") Welding

Sheet metal shearing and bending. Both Box & Pan and Press Brake work

Plate rolling

AR Steel Fabricating (Abrasion Resistant Steel)

Saw Cutting

CNC Torch & Plasma cutting

Custom Design

Electrical, Hydraulic and Mechanical Assembly

On Site welding and repair
We have many other special services which we can provide. Just ask, by calling or sending an email.
Parkway Manufacturing, Precision Fabrication and Machine shop is located in Hampton Virginia (VA) and serves all of Southeast Virginia and Northeast North Carolina, including: All of Tidewater VA, Virginia Beach Va. Norfolk Va. Chesapeake Va. Newport News Va. Portsmouth Va. Hampton Va. Yorktown Va. Suffolk Va. Williamsburg Va. Richmond, Va. Elizabeth City NC, and Jacksonville NC. (North Carolina)
As well as all of North America, (USA & Canada)
If you would like to contact our Web Designer

( http://www.parkwaymfg.com http://www.twosteptidewater.com http://www.willharper.com http://www.hyperlearn.com http://www.unityren.com http://www.niman-meyers.com http://www.gtechnetworks.com )
This page was last changed on - 09/23/2017